Main content starts here, tab to start navigating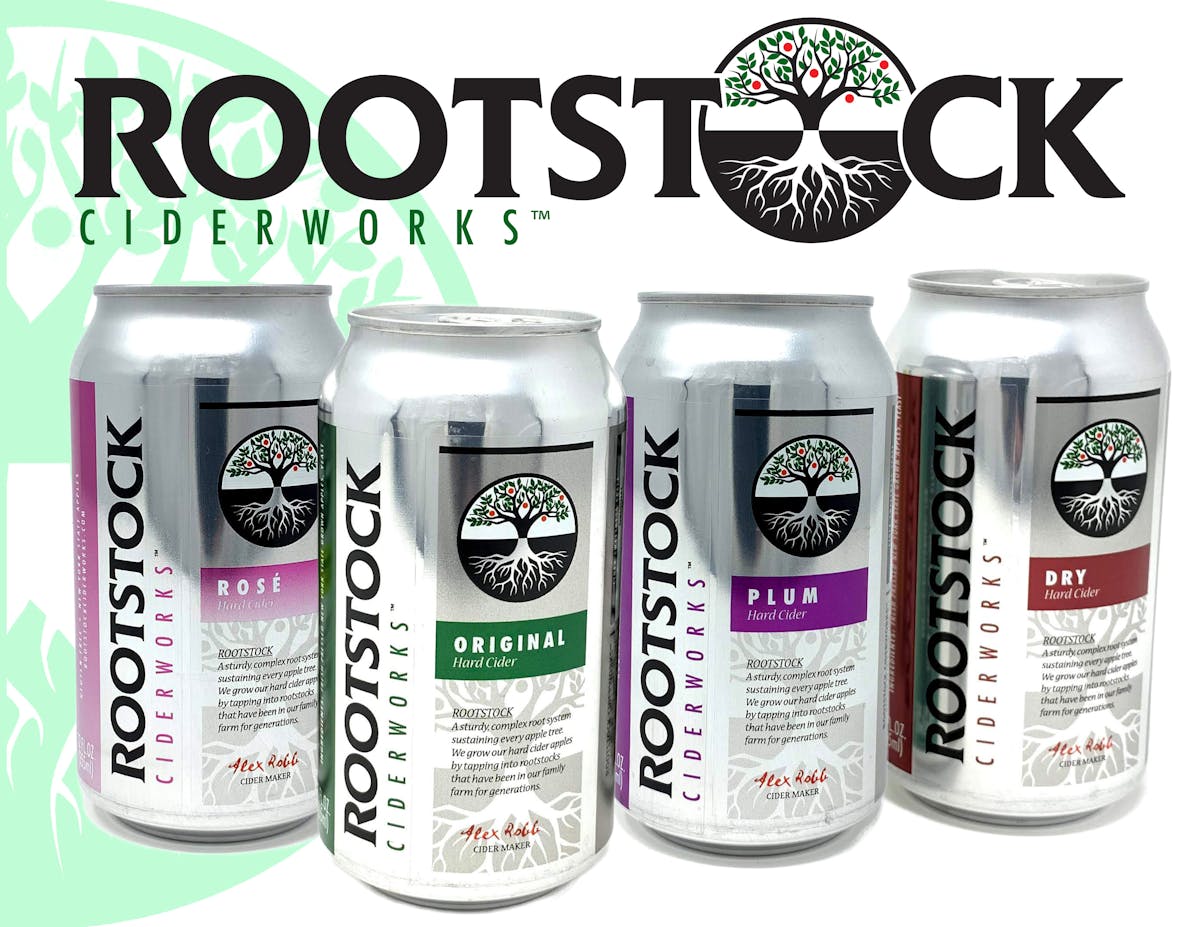 Rootstock Ciders
7.0% ALC/VOL | Available in Original, Dry, Rose, and Plum
Available Year-Round
Gluten-free, Kosher, no added sugar - just good apples.
As a passionate cider maker, Alex Robb takes great pride in crafting the annual vintage of our premium hard ciders. He carefully selects only the best heirloom apple varieties such as Golden Russet and Northern Spy. These classic American varieties enliven our ciders, creating extraordinary vintages with uncommon depth and balance. Alex cares for each small batch of cider, personally managing the blending and fermentation processes to ensure each year's vintage meets his exceptionally high-quality standards. Rootstock ciders have garnered medals at the prestigious Great Lakes International Cider & Perry Competition and praise from the most discriminating cider connoisseurs.
Original Hard Cider is a semi-sweet cider crafted from estate-grown New York State dessert apples. Its yellow sapphire color gives way to intriguing apple and banana aromas. Balanced acidity and soft carbonation make this cider an excellent choice for any occasion. Great Lakes International Cider & Perry Competition award-winning cider.
Dry Hard Cider is a dry cider celebration of fermentation character. The fruit-forward nature of the other Rootstock ciders takes a back seat to the bread and yeasty aromas found in this classic cider. Complex like Brut Champagne yet drinkable like a fine craft beer. Bronze Medal Winner: Great Lakes International Cider & Perry Competition (GLINTCAP) 2016
Rose Hard Cider is a collaboration project—this rare cider delivers a unique taste experience resulting from the marriage of a heritage variety apple (Rhode Island Greening) and a classic Austrian grape variety (Blaufränkisch). Vibrant salmon color and bold tannin—hints of apricot fill the nose while flavors of ripe red gooseberry excite the pallet. Silver Medal Winner: Great Lakes International Cider & Perry Competition (GLINTCAP) 2017
Plum Cider is new! It is made with a blend of estate-grown culinary and dessert apples infused with plum varieties such as Stanley, Anthocynanine, and Damson plums. Lightly rose-orange hue with aromatics of dark fruit and almond. 6.9% abv right in-between the semi-dry and semi-sweet. 3.5% residual sugar.
Coming Soon! Peach Cider! A testament to our love of fresh peach aromatics, blended with our classically clean style. Rootstock Peach evokes the juicy, lively sensations of fresh-picked ripe peaches – without all the mess.
Rootstock Cider & Spirits is a farmstead cidery and craft distillery located in Williamson, NY — 25-miles east of Rochester, NY near the shores of Lake Ontario. Established in 2012 by David DeFisher, Rootstock Cider & Spirits — the first post-prohibition farmstead distillery and cidery in the Rochester region — is dedicated to using only locally sourced ingredients in crafting premium ciders, perry, vodka, brandies, and more. The all-natural ciders and spirits are made from fresh fruit grown on the fourth generation DeFisher Fruit Farms — over 500 acres of orchards within the largest apple-producing county in the U.S.–Wayne County